December 28th, 2017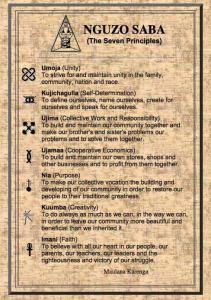 2016 Is The 50th year Anniversary of KWANZAA

Kwanzaa is a Pan-African holiday which celebrates family, community and culture. Celebrated from 26 December thru 1 January, its origins are in the first harvest celebrations of Africa from which it takes its name. The name Kwanzaa is derived from the phrase "matunda ya kwanza" which means "first fruits" in Swahili, a Pan-African language which is the most widely spoken African language.

The 7 Days of KWANZAA is an African American Holiday celebration, commencing on the day after Winter solstice, December 26th until January 1st. KWANZAA means, "the first fruits of the harvest." We use the African language of Ki Swahili to express our African heritage. Habari Gani is a Swahili word for "what's the news." We use this word to announce each day of KWANZAA. The answer for the first day is 1. UMOJA! (unity) 2. KUJICHAGULIA (self determination) 3. UJIMA (collective work and responsibility) 4. UJAMAA (cooperative economics) 5. NIA (purpose) 6. KUUMBA (creativity) 7. IMANI (faith)

The first-fruits celebrations are recorded in African history as far back as ancient Kemet and Nubia and appear in ancient and modern times in other classical African civilizations such as Ashantiland and Yorubaland. These celebrations are also found in ancient and modern times among societies as large as empires (the Zulu or kingdoms (Swaziland) or smaller societies and groups like the Matabele, Thonga and Lovedu, all of southeastern Africa. Kwanzaa builds on the five fundamental activities of Continental African "first fruit" celebrations: ingathering; reverence; commemoration; recommitment; and celebration. Kwanzaa,


First, Kwanzaa was created in 1965 to reaffirm and restore our roots in African culture. It is, an expression of recovery and reconstruction of African culture. Secondly, Kwanzaa was created to serve as a regular communal celebration to reaffirm and reinforce the bonds between us as a people. It was designed to be an ingathering to strengthen community and reaffirm common identity, purpose and direction as a people and a world community. Thirdly, Kwanzaa was created to introduce and reinforce the Nguzo Saba (the Seven Principles.) These seven communitarian African values are: Umoja (Unity), Kujichagulia (Self-Determination), Ujima (Collective Work and Responsibility), Ujamaa (Cooperative Economics), Nia (Purpose), Kuumba (Creativity), and Imani (Faith). This stress on the Nguzo Saba was at the same time an emphasis on the importance of African communitarian values in general, which stress family, community and culture and speak to the best of what it means to be African in the fullest sense.

September 19th, 2017
The RBG FLAG was first designed and used by Marcus Garvey and members of the United Negro Improvement Association (UNIA) in 1920.

A racist 1900 song called "Every Race Has a Flag but the Coon" was one of the hottest songs of the time among white supremacist, and was responsible for establishing the term "coon" in reference to Black men, women and children in the United States. This song so infuriated Marcus Garvey, that he commissioned the RBG Flag as the standard of Pan-Africanism.

"Show me the race or the nation without a flag, and I will show you a race of people without any pride. Aye! In song and mimicry they have said, Every race has a flag but the coon. How true! Aye! But that was said of us four years ago. They can't say it now!" -Marcus Garvey

Since the flag first came into existence, numerous African nations have adopted the colors as a symbol of their sovereignty.

Red represents the blood that has been shed.
Black represents our common identity and culture.
Green represents the land that must be redeemed and reclaimed for us, the original people of the world.
January 10th, 2017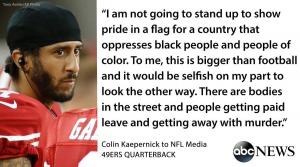 WHO IS SITTING WITH COLIN KAEPERNICK

Colin Rand Kaepernick (/ˈkępərnɪk/ kap-er-nick;[1] born November 3, 1987) is a professional American football quarterback for the San Francisco 49ers of the National Football League (NFL). He played collegiate football at the University of Nevada where he twice was named the Western Athletic Offensive Player of the Year and the Most Valuable Player of the 2008 Humanitarian Bowl. Kaepernick was selected by the 49ers in the second round of the 2011 NFL Draft. Wikipedia

https://www.washingtonpost.com/posteverything/wp/2016/08/30/insulting-colin-kaepernick-says-more-about-our-patriotism-than-his/?utm_term=.51552c0df796

In 2016, Colin Kaepernick began protesting the United States national anthem by not standing while the anthem was being performed before games. Motivated by the oppression of American Afrikans and other people of color, his actions prompted a Nation wide variety of responses, including other athletes in the NFL Joining him and other U.S. sports leagues and athletes, protesting the anthem in various ways.

Who is sitting with Colin Kaepernick at the bench, in the stadium or in this society!?
OUR SKIN IS BLACK 7/24/365!
We can NEVER turn that off!

Our Black skin has been/ is being used disparagingly by cops to racially profile- and target our people, and used by corporate exploiters from the cradle to the grave- to the school to prison pipeline, in the race supremacy injustice system. Police have been brutalizing and killing innocent unarmed Women, Children and Men across this country... "Black" is also used as a disparaging title and stereotype before every profession, description and depiction that we are found employed to do- Good or Bad/ Right or Wrong- for EVERY Man Woman or Child in this society who has a dark complexion and curly hair! We are expected to conform like Jim crow docile slaves- or be attacked for standing for being human beings.

Historically American African athletes were integrated and subjected to the most racist harassment throughout their careers, from High schools, to Colleges and finally professionally. They were treated like race horses and Gladiator slaves, subjected to ruthless, callus subordination and race discrimination, Ignoring traumatic brain concussions, shooting them up with pain killers, while ignoring the seriousness of their injuries and were forbade and penalized for touchdown celebrating; even though they excelled on the playing field. They were forced to mute their cultural expressions off of the playing field, where they had to wear suits, etc... The NFL STILL insults people of color, by making a mockery of our history, and misappropriating our cultures by continuing to depict mascots as ethnic stereotypes!

WE ARE THE FIRST AND OLDEST PEOPLE AND
THIS IS OUR PLANET TOO!

We deserve our dignity and respect as major contributors and as real Americans.
We are represented in many cultures and ethnicities in America.
We are NOT a slave race.
We were already living abundantly in America, before the Nina, Pinta, Santa Maria- and the Mayflower. So, many of us did not come to the US as indentured servants, war refugees and prisoners to be enslaved and used as chattel.

Black is Beautiful!
Our people have the Self Determination to work together!
Our people will continue to Vigilantly Refuse to bow to oppression and tyranny, as Natural Leaders, for our own Natural human rights, freedom of Speech and Expression!